Well it was quite surprising that it was never created before but I decided I might as well create it. I just finished the Central City page. I think I did an okay job for a newcomer. It's my first page so I hope it isn't too bad hah. I was surprised that it turned pretty good. Also happens to turn out this is my first post on this Blog.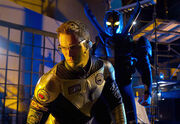 In terms of Smallville, I can't wait for the Booster episode. Booster Gold is a great superhero, especially along Blue Beetle. I also can't wait to finally see a episode where Clark finally assumes his mild-mannered disguise. I think I'll be posting my rambling speculation and theories later on on this Blog. However the Blue Beetle armor looks so terribly bulky. I hope Geoff Johns is right and it gets better. This also seems to be the first live-action appearance of both Booster Gold and Blue Beetle. I could be wrong but I'll check it out later.
Anyway personally, I've been re-watching episodes of The Big Bang Theory and I have to say it's a hilarious series. Anyone with any free-time should watch at least in episode. If anyone's curious here's a quick clip of a funny scene involving a Batman gag.
Watch It Here
Ad blocker interference detected!
Wikia is a free-to-use site that makes money from advertising. We have a modified experience for viewers using ad blockers

Wikia is not accessible if you've made further modifications. Remove the custom ad blocker rule(s) and the page will load as expected.