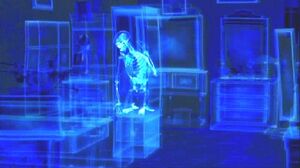 X-ray vision is the ability to see through anything, except for lead. While it's still developing, it appears that Kryptonians can only use the X-ray aspect, and can later use it without it.[1] The ability appears to require active concentration.[2]
Characters who have displayed x-ray vision
Appearances
Notes
Gallery
In The Comics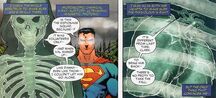 Superman's vast senses grant him the ability to see through solid objects, usually with the exception of lead. Explanations for how this power works vary, but rarely include the emission and perception of actual X-rays, as such high-energy radiation would actually be dangerous to living things he uses it on. A more common theory involves being able to see and concentrate on the patterns of natural cosmic radiation as it reverberates off objects.
See also
References
↑ Evidenced by Clark first seeing Tina Greer as a skeleton in X-Ray.