Zan and Jayna
Talk

4
1,657pages on
this wiki
"Powers activate!" - Zan and Jayna, Idol
Zan and Jayna are super-powered admirers of the Blur who live in Metropolis.
Physical Appearance
Edit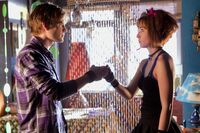 Zan is the taller of the two, with blue eyes and short, light reddish-brown hair. He wore a purple plaid, long-sleeved shirt with a grey t-shirt underneath.
Jayna has hazel eyes and the same colored hair as her brother, though she has a pink streak in hers and a pink flower on top. Jayna wore a black, strapless top with a purple tank-top underneath. She also wore a black, studded choker with a metal heart hanging off of it.
When the twins activate and de-activate their abilities, there is a blinding purple light that appears. Their eye color also briefly flash purple when they transform.
Personality
Edit
Zan and Jayna have almost the same personalities. The two are quite negligent in their actions, and have a great desire to become heroes. They also have a great sense of loyalty and respect towards their idols and have seized upon them as role models, paying attention to their advice and trying to do things right, even if it meant getting hurt.
Powers and Abilities
Edit
Shapeshifting: Both Zan and Jayna have to activate their powers by touching each other. When they do so, they say, "Powers activate." However, they can return to human form at will. When their powers activate or de-activate, there is a blinding purple light.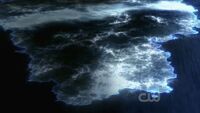 Zan
Elemental Mimicry: Zan has the ability to turn his body into any form of water (solid, liquid, gas). He first transforms into a sheet of ice, causing a speeding limo to sprint out of control. He later transforms into fog, hiding Clark Kent and Lois Lane on the Daily Planet rooftop from the crowds on the streets below.
Jayna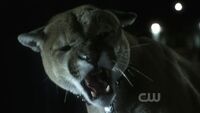 Animal Morphing: Jayna can shapeshift into animals and insects. She is shown transforming into a cougar (to attack the limo), a ladybug (to spy on Chloe and to fly back to Watchtower), and a dog (to subdue Ray Sacks).
Early life
Edit
The nature or origin of Zan and Jayna's powers is unknown, though it is possible that they inherited them from their father. Since no one believed that Zan and Jayna were transfer students from Sweden, they lived on the streets their whole life. The only other history they had was that they once had a father that told them to always stay together, because they are stronger as a team.
Season Nine
Edit
"We're not the hero, you are!" Zan,
"We believe in you, Master B." Jayna, Idol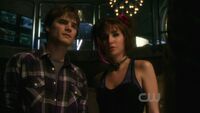 Zan and Jayna were two kids who idolized the Blur, but started to get him into trouble by making busts by themselves and leaving his mark without knowing better. Not to mention an e-mail, Facebook, and Twitter account online. They obviously wanted to help, but ended up capturing a bunch of undercover narcotics police. After that, they go after a diamond thief. Zan turned into a sheet of ice to put the limo out of control, while Jayna became a cougar and scared the driver. Their plan worked, but they ended up taking out Metropolis' power.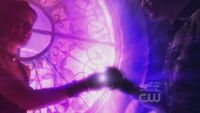 Back at Zan and Jayna's place, they found out that Jayna lost her phone at the power plant. Zan then received a call from Jayna's phone; they panicked under the belief that they were being tracked, so they planned to escape, but when they were about to activate their powers, they were knocked out by Clark (as the Blur). Clark took the twins to the Watchtower where Chloe Sullivan convinced them to back down from trying to help the Blur. Disguised as a ladybug, Jayna found out that the Blur was in even more political trouble and that it was their fault, so they decided to activate their powers and go help.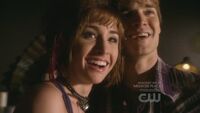 To cover Lois and Clark from being seen, Zan turned into water vapor and Jayna turned into a dog to get Ray Sacks. When Lois fell, Zan brought her safely to the ground. Later, at their apartment, the Blur came to tell them that he was proud of them and that they did a good job, but also told them what the meaning of being a hero was truly all about and the responsibilities that came with it.
In the Comics
Edit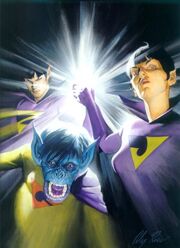 The Wonder Twins, Zan and Jayna, are teenage alien superheroes who were helpers to the Super Friends that debuted in the Hanna-Barbera animated television series of the same name. They are siblings from the planet Exxor (also spelled "Exor") who were being informally trained by the superheroes. Their powers were activated when the twins touched each other and spoke the words, "Wonder Twin powers, activate!" (In the comics, it was revealed that this phrase was unnecessary, just a habit of theirs.)
As they were about to transform, they would each announce their intended form. Zan can transform into water at any state (solid, liquid, gas). In the case of becoming solid ice, he can also become any form he chooses. Jayna can transform into any animal, whether real, mythological, indigenous to Earth or to some other planet, like Beast Boy, so long as she knows the name. In addition, they had a pet Space Monkey called Gleek who had a useful prehensile tail and whose body could act as a conduit for the twins to activate their powers should they be out of reach. In addition, the two shared a telepathic link, enabling one to alert the other over a distance when in dire circumstances. Their mutual telepathy would also explain how they were able to assume forms that allowed cooperation without any previous discussion of strategy.
In the 1990s, they were introduced into the main DC Universe in the series Extreme Justice. In Extreme Justice #9, since they can't speak English, they attack the Justice League. In their fight, Zan becomes an ice golem, and water monster and a demonic-looking whirlpool. Jayna becomes a griffin, werewolf, and a sea serpent. In issue #16, they become members of Captain Atom's JLA. They later appeared in the teen super-hero series Young Justice, where they, along with an army of other teen heroes were called together to assault the super-villain island of Zandia. Like in Extreme Justice, the twins could not speak English. They also enjoyed eating compact discs. Today, they are rarely seen, but they still exist.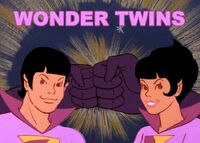 The Wonder Twins were created by Hanna-Barbera and made their debut on Hanna-Barbera's SuperFriends (1973-1985) during the 1977 season.
They used diminutives to communicate with each other. Zan always refers to Jayna as "J" and Jayna refers to Zan as "Z."
Zan tells Chloe that nobody was really buying that he and Jayna were exchange students from Sweden. In the Super Friends comic, the Wonder Twins were supposedly transfer students from Esko, Sweden in order to assimilate a normal life among humans.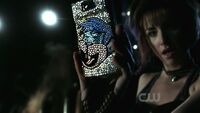 Jayna's cell phone has on it a picture of Gleek, the space monkey pet of their counterparts in the comics and TV series. Similarly, Zan's phone emits a sound like that the monkey does in the animated series.
Clark calls Zan and Jayna "the Wonder Twins."
Zan and Jayna wore purple and black clothing as a nod to their future uniforms.
To activate their powers, Zan and Jayna touch and say "Powers activate!" In the Super Friends cartoon, the Wonder Twins say "Wonder Twin powers, activate!".
Being alien, the comic characters have pointed ears. In Smallville, the top of Zan's ears and the entirety of Jayna's are covered by their hair, making it notably impossible to tell if they share this feature. As their histories are not explained, it's also difficult to know whether or not Zan and Jayna are aliens or metahumans.
External links
Edit