Zor-El's wife is a Kryptonian and member of the House of El.
Early Life
Zor-El's wife was a member of a noble Kryptonian family, the House of El. She gave birth to Kara but it is indicated that at some point she left both her husband and daughter as during Kara's teenage years she was not around and Kara had her aunt, Lara, as the closest thing to a mother figure. It is unknown if during that time, she and Zor-El were separated, even though Zor obviously had feelings for Lara. She was also not present during Krypton's destruction and thus likely she may be still alive somewhere.
Season Eight
After being freed from the Phantom Zone by her cousin, Kara decided to leave Smallville and to find Kandor, the capital city of Krypton which is rumored to still exist out there somewhere in space and could possibly contain more survivors of their bloodline, and possibly her own mother, believing it's her destiny to find and save them.
Season Ten
Kara went to find the only possible living members from the bloodline of the House of El, her mother. However, unable to find her after two years of searching, Kara came to realize that she and Kal-El were the only survivors of the House of El as well as the only surviving Kryptonians left in the universe.
In the Comics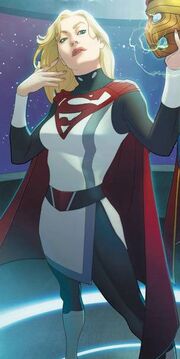 In the comics, Zor-El's wife is named Alura In-Ze (sometimes her first name is spelled Allura).
In Silver Age, Alura was once believed killed along with the destruction of Argo City. However, it was later revealed that both Alura and her husband, Zor-El, survived and relocated to the city Kandor on the planet, Rokyn.
In the Modern Age, was a native of the planet Krypton who lived in Argo City. She was the wife of scientist Zor-El and the mother of Kara Zor-El, aka, Supergirl.
Utilizing Brainiac's technology, Alura and the people of Argo City survived the destruction of Krypton. Sensing the utilization of his force field tech, Brainiac returned and integrated those individuals who he deemed valuable into the bottle city of Kandor. Alura's daughter, Kara, was able to escape Brainiac's reach as she was sent to Earth to join her cousin, Kal-El. Alura and her husband remained on Brainiac's ship for many years, but succeeded in making a life for themselves. Some time ago, Brainiac came into conflict with Alura's nephew Superman who defeated Brainiac and liberated Kandor. He relocated Kandor not far from his arctic Fortress of Solitude whereupon he restored it to it's original size. The city then became known as New Krypton. The liberated citizens of Kandor were now free to do whatever they wanted.
Alura's husband, Zor-El, attempted to assimilate the Kandorians into regular Earth culture, but Alura didn't share her husband's idealism. She believed that Earthlings were just a weaker, lesser version of Kryptonians. Having lived as a refugee for so many years, Alura was not ready to compromise any aspect of Kryptonian culture. Without her husband's knowledge, Alura employed the aid of a Kandorian military contingent led by Commander Gor. Believing that Superman's more dangerous adversaries represented a threat to not only Superman, but to all Kryptonians, she instructed Commander Gor to abduct several known felons from Stryker's Island Penitentiary and relocate them to the Phantom Zone. Superman pleaded with Zor-El and Alura to help bring these renegade Kryptonians to justice. Alura didn't reveal the part that she played in this controversy, but also didn't express any remorse either. Alura's commitment towards Kryptonian ideals took a bitter turn when two known agents of Project 7734, Metallo and Reactron invaded New Krypton and murdered Zor-El. Alura presided over her husband's funeral services. Following this, Alura continued working on a project originally begun by Zor-El. Using elements of the Sunstone crystal, as well as reverse-engineered components of the original Brainiac probes, Alura activated a device that uprooted all of New Krypton from the Earth. The city-state flew into the sky and took position around the sun on the opposite orbit of Earth. She publicly declared that since Kryptonians were obviously no longer welcome on Earth, then Earthlings (as well as Superman) would not be permitted on New Krypton.
Once New Krypton was in a fixed orbit, Alura then used a Phantom Zone Projector and freed many of the Phantom Zone prisoners, including General Zod, Ursa and Non.
When Brainac and Lex Luthor attack New Krypton trying to recapture it, Alura helps defending the city. Ultimately she remains as the only surviving council member following the battle. Following the attack, General Zod declares war on Earth and Alura proceeds to squeeze any information she can out of Reactron herself, angry at the Earthlings' involvement in Brainac's attack. Torturing Reactron, she is confronted by her daughter, and the argue about her mother's unethical behavior. Alura sealed her daughter into a radiation chamber, saving her life. When Reactron was ready to explode, Alura is killed by the blast, along with the planet of New Krypton.
Notes
Erica Durance portrays Alura, Kara Zor-El's mother, on Supergirl.
Alura made a cameo as a background character in Superman/Batman: Apocalypse during the flashback sequence of Krypton's destruction.
Alura along with Zor-El appeared in the comic book tie-in of the 2013's film Man of Steel, which serves as a prequel and Kara Zor-El appears as the protagonist.
Other faces of Alura